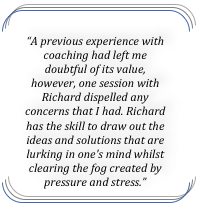 Coaching is about providing focussed developmental support to individuals or groups in order that they can improve personal, team and organisational performance and enhance their sense of empowerment and fulfilment.
Coaching can be highly effective in any circumstances where an individual is motivated to develop, whether the focus is on under achievement or on a journey 'from good to great'!
We offer an holistic coaching service including Executive Coaching, Business Coaching and Life Coaching, and a flexible approach which focuses absolutely on the individual's or organisation's objectives and circumstances.
In addition to being fully qualified, we are accredited and licensed to administer a range of psychometric instruments through our coaching. These are can provide thought provoking added insight into personal attributes and traits and can add great value to the coaching experience, helping to deliver powerful performance improvements
| | | | |
| --- | --- | --- | --- |
| | | | |